You are here
Back to top
An Appetite for Wonder: The Making of a Scientist (Paperback)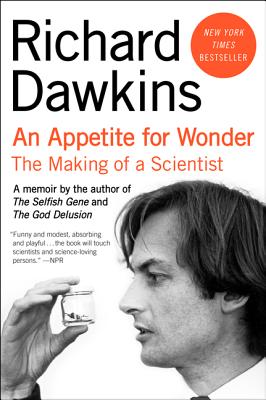 $15.99
Email or call for price.
Description
---
New York Times bestselling author and renowned atheist and evolutionary biologist, Richard Dawkins delivers an intimate look into his own childhood and intellectual development, illuminating his path to becoming one of the foremost thinkers in modern science today

"A memoir that is funny and modest, absorbing and playful. Dawkins has written a marvelous love letter to science . . . and for this, the book will touch scientists and science-loving persons . . . Enchanting." —NPR
 
 
Richard Dawkins's first book, The Selfish Gene, was an immediate sensation and dramatically shifted the study of biology by offering a gene-centered view of evolution. Published in 1976, the book transformed the way we think about genes and evolution and has sold more than a million copies. In 2006, Dawkins transformed the world's cultural and intellectual landscape again with The God Delusion, a scientific dismantling of religion. It was a New York Times bestseller and has sold more than two million copies worldwide. An Appetite for Wonder is Dawkins's insightful memoir examining his own evolution as a man and as a thinker. From his beginnings in colonial Kenya to his intellectual awakening at Oxford, Dawkins shares his path to the creation of The Selfish Gene, and offers readers an in-depth look at the man and the mind that has changed the way we view science and evolution.
About the Author
---
Richard Dawkins was first catapulted to fame with his iconic work The Selfish Gene, which he followed with a string of bestselling books. Part one of his autobiography, An Appetite for Wonder, was published in 2013.
Dawkins is a Fellow of both the Royal Society and the Royal Society of Literature. He is the recipient of numerous honours and awards, including the Royal Society of Literature Award (1987), the Michael Faraday Award of the Royal Society (1990), the International Cosmos Prize for Achievement in Human Science (1997), the Kistler Prize (2001), the Shakespeare Prize (2005), the Lewis Thomas Prize for Writing about Science (2006), the Galaxy British Book Awards Author of the Year Award (2007), the Deschner Prize (2007) and the Nierenberg Prize for Science in the Public Interest (2009). He retired from his position as Charles Simonyi Professor for the Public Understanding of Science at Oxford University in 2008 and remains a Fellow of New College.
In 2012, scientists studying fish in Sri Lanka created Dawkinsia as a new genus name, in recognition of his contribution to the public understanding of evolutionary science. In the same year, Richard Dawkins appeared in the BBC Four television series Beautiful Minds, revealing how he came to write The Selfish Gene and speaking about some of the events covered in this autobiography.
In 2013, Dawkins was voted the world's top thinker in Prospect magazine's poll of over 10,000 readers from over 100 countries.
Praise For…
---
"Fantastic. [Offers] a fascinating glimpse of how one of today's most influential scientific minds blossomed into himself."
— Maria Popova, Brainpickings.org

"Surprisingly intimate and moving. … He is here to find out what makes us tick: to cut through the nonsense to the real stuff."
— The Guardian

"Dawkins' style [is] clear and elegant as usual… a personal introduction to an important thinker and populariser of science. … provide[s] a superb background to the academic and social climate of postwar British research."
— Financial Times

"The Richard Dawkins that emerges here is a far cry from the strident, abrasive caricature beloved of lazy journalists … There is no score-settling, but a generous appreciation and admiration of the qualities of others, as well as a transparent love of life, literature - and science."
— The Independent

"[Here] we have the kindling of Mr. Dawkins's curiosity, the basis for his unconventionality."
— New York Times

"…this isn't Dawkins's version of My Family and Other Animals. It's the beauty of ideas that arouses his appetite for wonder: and, more especially, his relentless drive … towards the answer."
— The Times (UK)

"[An Appetite for Wonder is] a memoir that is funny and modest, absorbing and playful. Dawkins has written a marvelous love letter to science… and for this, the book will touch scientists and science-loving persons. … an enchanting memoir to read, one that I recommend highly."
— NPR

"…charming, boring, brilliant, contradictory, conventional, revolutionary. We leave it perhaps not full of facts or conclusions, but with a feeling of knowing the man."
— New York Daily News

"Richard Dawkins is a hero of mine, so being able to read about how he became the man and the thinker he is, was a particular delight for me. ... Some people get their kicks from Superman's origin story, or Batman's origin story ... But for me, it was Richard Dawkins."
— Bill Maher

"In An Appetite for Wonder Dawkins turns his critical analysis inward to reveal how his mind works and what personal events and cultural forces most shaped his thinking. Destined to become a classic in the annals of science autobiography."
— Michael Shermer, publisher of Skeptic magazine, monthly columnist for Scientific American, and author of The Believing Brain and Why Darwin Matters

"Skepticism and atheism do not arrive from revelation or authority. In our culture it's a slow thoughtful process... For the modern skeptical/atheist movement, in the beginning -- there was Dawkins and he was wicked good. Appetite for Wonder shows us this beginning."
— Penn Jillette, author of God No! and Every Day is an Atheist Holiday

"Told with frankness and eloquence, warmth and humor, this is ... a truly entertaining and enlightening read and I recommend it to anyone who wants a better understanding of Dawkins the man and the rightful place of science in our modern world."
— Lawrence Krauss, Foundation Professor in the School of Earth and Space Exploration, and Director of the Origins Project at Arizona State University, author of A Universe from Nothing and Physics of Star Trek

"Enjoyable from start to finish, this exceptionally accessible book will appeal to science lovers, lovers of autobiographies-and, of course, all of Dawkins's fans, atheists and theists alike."
— Library Journal, starred review

"Well-written, captivating, and filled with fascinating anecdotes."
— Publishers Weekly

"This memoir is destined to be a historical document that will be ceaselessly quoted."
— The Daily Beast

"This first volume of Dawkins's autobiography … comes to life when describing the competitive collaboration and excitement among the outstanding ethologists and zoologists at Oxford in the Seventies-which stimulated his most famous book, The Selfish Gene."
— London Evening Standard

"Dawkins proves that today he is still an extraordinary thinker, and one who has made an enormous contribution to understanding human nature. This memoir is a fascinating account of one man's attempt to find answers to some of the most difficult questions posed to mankind."
— NPR Books