You are here
Back to top
You're Not from Around Here, Are You?: A Lesbian in Small-Town America (Living Out: Gay and Lesbian Autobiog) (Paperback)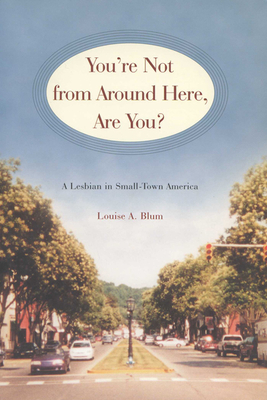 $19.95
Email or call for price
Description
---
This is a funny, moving story about life in a small town, from the point of view of a pregnant lesbian. Louise A. Blum, author of the critically acclaimed novel Amnesty, now tells the story of her own life and her decision to be out, loud, and pregnant. Mixing humor with memorable prose, Blum recounts how a quiet, conservative town in an impoverished stretch of Appalachia reacts as she and a local woman, Connie, fall in love, move in together, and determine to live their life together openly and truthfully.
    The town responds in radically different ways to the couple's presence, from prayer vigils on the village green to a feature article in the family section of the local newspaper. This is a cautionary, wise, and celebratory tale about what it's like to be different in America—both the good and the bad. A depiction of small town life with all its comforts and its terrors, this memoir speaks to anyone who has ever felt like an outsider in America. Blum tells her story with a razor wit and deft precision, a story about two "girls with grit," and the child they decide to raise, right where they are, in small town America.
About the Author
---
Louise A. Blum has published poetry, short stories, and a novel, Amnesty, a finalist for the 1996 Lambda Literary Award for Best Lesbian Fiction. A graduate of the Iowa Writer's Workshop, she is associate professor of English at Mansfield University in Wellsboro, Pennsylvania, and lives in Corning, New York.
Praise For…
---
"I love this book. It is so honest, open, and emotionally riveting. Blum is very funny, even and often in the middle of a traumatic moment."—Lyn Lifshin, author of Before It's Light: New Poems
"A gem of a book. More than a memoir, this is a gripping tale told by a born storyteller, a picaresque narrative about being a lesbian in God's country. Blum recognizes, in felicitous and well-crafted prose, both the humor and the poignancy of her story, vividly evoking the difficulties and rewards of finding a place in her community for her new family. Savor this book."—Mary Dearborn, author of Queen of Bohemia: The Life of Louise Bryant
"This book is a refreshing change from urban queer memoirs and a poignant reminder that we are indeed everywhere."—Gay and Lesbian Times
"Blum's at times cautionary tale will be a reality check for LGBT readers and an eye-opener for straight ones."—Library Journal