You are here
Back to top
Undiscovered Country: A Novel (Hardcover)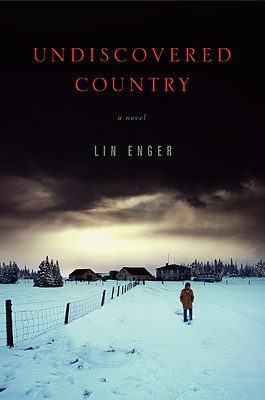 August 2008 Indie Next List
---
"At the end of a day of deer hunting, 17-year-old Jesse Matson hears a shot. He runs to his dad's deer stand to find his father dead, apparently from a self-inflicted rifle shot. This reinterpretation of Hamlet, set in northern Minnesota, is beautifully written and explores theme of betrayal, revenge, and the possibility of forgiveness and redemption."
— Sally Wizik Wills, Sister Wolf Books, Park Rapids, MN
Description
---
Unaware that his life is about to change in ways he can't imagine, seventeen-year-old Jesse Matson ventures into the northern Minnesota woods with his father on a cold November afternoon. Perched on individual hunting stands a quarter-mile apart, they wait with their rifles for white-tailed deer. When the muffled crack of a gunshot rings out, Jesse unaccountably knows something is wrong-and he races through the trees to find his dad dead of a rifle wound, apparently self-inflicted.

But would easygoing Harold Matson really kill himself? If so, why?

Haunted by the ghost of his father, Jesse delves into family secrets, wrestles with questions of justice and retribution, and confronts the nature of his own responsibility. And just when he's decided that he alone must shoulder his family's burden, the beautiful and troubled Christine Montez enters his life, forcing him to reconsider his plans.

In spare, elegant prose, Lin Enger tells the story of a young man trying to hold his family together in a world tipped suddenly upside down. Set among pristine lakes and beneath towering pines, Undiscovered Country is at once a bold reinvention of Shakespeare's Hamlet and a hair-bristling story of betrayal, revenge, and the possibilities of forgiveness.
About the Author
---
Lin Enger is the MFA director at Minnesota State University, Moorhead. A graduate of the Iowa Writers' Workshop, he lives in Minnesota with his wife and two children.
Praise For…
---
"Lin Enger's first novel brings the heft of Shakespearean drama to the north woods of Minnesota. In a cleanly-elegant narrative, Enger weaves a winter's tale of betrayal and ghosts, of one son's debt to his father and the wages of vengeance. For the reader,
Undiscovered Country
is the best kind of discovery-a riveting first novel that's a genuine page turner, and an author whose work bears watching."—
Claire Davis, author of Winter Range
,
-
"This is a novel of luminous sentences that carry us across a landscape of love and loss to a deeper understanding of our own lives, and of our desire to be forgiven and redeemed. It is a joy to read."
—
Don J. Snyder author of The Cliff Walk and Of Time & Memory
,
-
"Lin Enger starts
Undiscovered Country
with a literal bang and continues to ratchet up the tension. His characters are vivid and complex, and his descriptions of northern Minnesota in winter are astonishing. This retelling of a Shakespearean tragedy is powerful and engrossing."—
Larry Watson, author of Montana 1948
,
-
"At once both otherworldly and shockingly real,
Undiscovered Country
reinvents the conundrum of love and loss facing a modern-day Hamlet. This first novel by Lin Enger is sincerely rendered and honestly invoked. Such results promise more to come."—
Tom Bailey, author of The Grace That Keeps This World
,
-
"With flashes of prose as crisp and haunting as the frozen Minnesota setting."—
Publishers Weekly
,
-
"[The] combination of gritty realism and poetic landscape portraiture...create a new story of betrayal, adolescent confusion and loyalty."
—
Valerie Ryan
,
Seattle Times