You are here
Back to top
Haute Bohemians (Hardcover)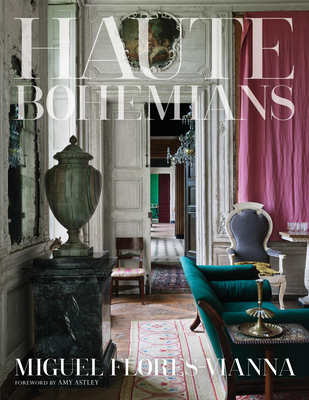 List Price: $75.00
Our Price: $60.00
(Save: $15.00 20%)
Description
---
Who, exactly, is a haute bohemian? Leave it to the discriminating, gimlet eye of photographer Miguel Flores-Vianna, who enjoys an international, cult-like following. He has journeyed through four continents to capture an extraordinary group of fashion designers, landscape architects, artists and art historians, potters, and interior designers, where they live—country cottages, beach bungalows, canal-side lofts, and East Village apartments, as well as assorted estancias, châteaux, and palazzi. Some of these spaces are grand, others are modest, but all are original, stylish, charming, and above all authentic, in the sense that they reflect their owners' care and taste.

His work is introduced by Amy Astley, editor of AD.

About the Author
---
Amy Astley was named editor-in-chief of Architectural Digest in 2016. She previously worked at House & Garden and Vogue before becoming the founding editor of Teen Vogue, a position she held for 13 years. She resides in New York City.
Praise For…
---
"For the past quarter-century, Miguel Flores-Vianna has led the enviable life of an interiors editor and photographer. In his new book, 'Haute Bohemians,' he chronicles the lush and layered homes of the friends and acquaintances he has made along the way."
— T: The New York Times Style Magazine

"With friends around the world, Miguel Flores-Vianna takes us on a tour of artful homes through his camera lens."
— Better Homes & Gardens

"A series of visits to the spaces of some of the world's most esteemed designers, artists and tastemakers. . . . full of soul."
— Luxe Interiors & Design

"My dear friend Miguel Flores-Vianna's new book Haute Bohemians is the most gorgeous and inspiring book I've ever seen. His stunning photographs are of houses that are both beyond chic and yet at the same time unbelievably warm and personal. Order it now. You'll be glad you did!!"
— Ina Garten, Barefoot Contessa cookbooks and TV

"Miguel Flores-Vianna's photographs are more than merely beautiful. They are poetic, instinctively capturing the spirit of place and the essence of lives that are lived within. In his new book, Haute Bohemians, Miguel gives us intimate entree into the homes and gardens belonging to many of the most stylish designers, aesthetes and creative talents around the world."
— Quintessence

"Miguel Flores-Vianna has collected some of his work into a big, beautiful book--his first. Called Haute Bohemians, the page-turner zooms in on the perfectly-imperfect, deeply personal homes of Flores-Vianna's friends and acquaintances, captured across four continents."
— Tory Daily

"Miguel Flores-Vianna, who has been capturing—and elevating—classic bohemian interiors for the pages of international design magazines for years, proves the look timeless in his lush new book 'Haute Bohemians.'"
— The Boston Globe