You are here
Back to top
The Challenging Riddle Book for Kids: Fun Brain-Busters for Ages 9-12 (Paperback)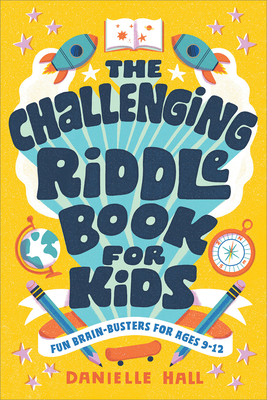 List Price: $7.99
Our Price: $6.39
(Save: $1.60 20%)
Usually Ships in 1-5 Days
Description
---
What's challenging, fun, and sure to give your brain a workout? This riddle book for kids ages 9-12!
Riddle me this—can you solve these super hard word puzzles? You sure can! Featuring nearly 200 brain benders, this riddle book for kids ages 9-12 is the ultimate option for clever children who love thinking outside the box.
This big riddle book for kids ages 9-12 will test the limits of your imagination. Start things off with handy tips and simple warm-up riddles that will help you twist your thinking and get creative. What's the difference between a bird and a fly? Tie your brain in knots and find out inside!
Boost your brainpower with this riddle book for kids ages 9-12:
Tons of tough riddles—Build your problem-solving abilities and stretch your creative thinking skills as you unravel all kinds of perplexing puzzles.
Learn about history's biggest puzzlers—Try your hand at some of the world's most famous riddles, like the Riddle of the Sphinx or Bilbo's riddle from The Hobbit, while also learning fun facts about their history.
Easy to use—Tips, hints, and an organized answer key in the back of this riddle book for kids ages 9-12 make it easy to get solving with your friends and family anytime.
Overcome the mind-blowing mysteries inside the very best riddle book for kids ages 9-12!
About the Author
---
DANIELLE HALL has loved puzzles from an early age and enjoyed old computer games like The 7th Guest and Myst. She has 10 years of teaching experience in North Carolina, Puerto Rico, and Germany. Currently, she makes digital escape games for middle and high schoolers. She lives with her wife and pets Padfoot and Crookshanks in Astoria, Oregon. Visit her at teachnouvelle.com.

Praise For…
---
"Perfect for kids, adults, and those in-between, this charming book will surely make you work your brain in the best way possible. Filled with tricky yet achievable riddles, these puzzles will surely make you think! Danielle does an awesome job providing helpful hints, connecting historical anecdotes, and an array of easy to challenging head-scratchers for educators and kids to ponder!" —Jessica Yen, Sixth Grade Humanities Teacher

"This riddle book has EVERYTHING! Witty brain teasers? Check. Clever word play? Check. Respect for the reader? Check! Danielle Hall hits it out of the park with this fabulous book of riddles. Your children or students will not only be engaged for hours on end, but they are also sure to begin looking at the world through a more critical lens. A must-read!" —Sheila Frye, Ed.D.

"Kids will carry this book around giggling as they stump their friends and family with these head-scratching riddles!" —John Rodney, Middle School English Teacher

"Danielle's book would be perfect for teachers to use for brain breaks. It contains a variety of riddles that will engage kids and get their brains working—a fun way to build critical thinking skills! I also love that each chapter begins with a 'Did You Know,' so kids can learn new and fun facts as well." —Jackie Cutcliffe of learninginroom213.com