You are here
Back to top
Martin and John (Paperback)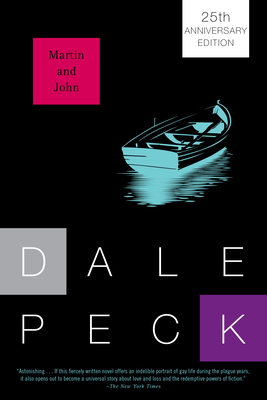 $16.00
Email or call for price
Description
---
Dale Peck's debut is a tour de force in which Martin and John find each other again and again: in a trailer park, a high-end jewelry store, a Kansas barn, and later, in New York City, living under the shadow of the AIDS epidemic. Though their names remain the same, their identities are constantly shifting, creating a fractured view of loss and desire in the early years of the AIDS crisis. Vaulting through self and history,

Martin and John is one of the most remarkable novels to emerge from an America ravaged by disease, and one of the finest and most complex love stories of the '90s. Martin and John is the first volume of Gospel Harmonies, a series of seven stand-alone books (four have been written) which follow the character of John as he attempts to navigate the uneasy relationship between the self and the postmodern world.
About the Author
---
Dale Peck is the author of thirteen books in a variety of genres, including Night Soil, Visions and Revisions, Hatchet Jobs, and Sprout. His fiction and criticism have appeared in dozens of publications, and have earned him two O. Henry Awards, a Pushcart Prize, a Lambda Literary Award, and a John Simon Guggenheim Memorial Fellowship. He lives in New York City, where he has taught in the New School's Graduate Writing Program since 1999.
Praise For…
---
Praise for Martin and John

"[Dale Peck's] wisdom about human feelings, his talent for translating those feelings into prose and his sophisticated mastery of literary form all speak to a maturity that belies his twenty-five years. In short, a stunning debut."
—The New York Times

"How do you write a novel that describes the impact AIDS has had on you and still take into account all the other people who are suffering the consequences of the disease? Dale Peck has come up with his answer in Martin and John—a book that marks the debut of a remarkably accomplished young writer. In this kaleidoscopic novel, separate stories come together to form a shifting picture of gay life in the time of AIDS . . . [Martin and John] simultaneously reflects one man's experience and the experiences of many men."
—Entertainment Weekly

"Peck's first novel has a dark brilliance and moments of real beauty, but it is a book that is shocking, hard to accept fully, and hard to ignore."
—Los Angeles Times

"Martin and John is one of the more inspired and brilliant novels that deal not only with AIDS but with the grief and bereavement that are inescapably a part of every life."
—The Nation

"Remains a sophisticated literary response to the AIDS crisis."
—Los Angeles Review of Books

"Alternative readings are the key to Dale Peck's aesthetic—one so sophisticated and, for the most part, so masterfully realized that it is hard to believe Peck is only twenty-five. This is his first full-length work but, ingeniously, it functions both as a novel and as a collection of short stories . . . Peck can handle notoriously difficult subjects—AIDS, child abuse and sadomasochistic sex not just explicitly, but with a sincerity free of all melodrama. As he orchestrates a structural puzzle of fictions within fictions, he also moves towards a heartwrending autobiographical truth."
—The Independent

"Dale Peck is what we've been waiting for, a new talent with vast ambitions and a voice like an angel chewing on broken glass. Martin and John launches an important career."
—Michael Cunningham, author of The Hours

"These are elegant, nightmarish variations on two compressed, mordant themes: love in the time of AIDS and the eternally fragile politics of domestic desire . . . The somber lyricism, the fresh conception of form, the profoundly human grasp of character all suggest this touchingly young writer will have a great future."
—Edmund White, author of A Boy's Own Story

"Dale Peck's first novel is a wounding, extraordinarily honest story with a promiscuous narrative energy and honed stylistic gift that can only mark the arrival of a prodigious talent."
—Dennis Cooper, author of The Marbled Swarm

"Martin and John could not have been written at any time but now and not by any other writer than Dale Peck. He is that rare phenomenon—an original—and his book is mysterious, solemn and full with feeling."
—Susan Minot, author of Rapture

"Dale Peck's novel is about the darkness and sexual chaos in the lives of middle-American families, and about love and passion in the midst of plague. From beginning to end, Martin and John is wrenching and unflinching—charged with the exhilarating magic of a bold, new voice."
—Joyce Johnson, author of Minor Characters