You are here
Back to top
A Stranger Here Below: A Gideon Stoltz Mystery (Gideon Stoltz Mystery Series) (Paperback)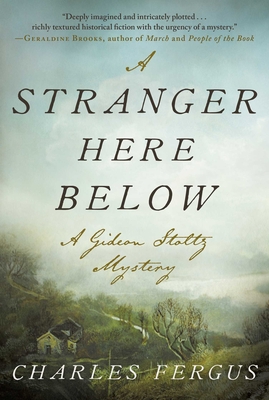 Description
---
For fans of C.J. Box's Joe Pickett series, a fabulous historical mystery series set in early America.
 

Set in 1835 in the Pennsylvania town of Adamant, Fergus's first novel in a new mystery series introduces Sheriff Gideon Stoltz, who, as a young deputy, is thrust into his position by the death of the previous sheriff. Gideon faces his first real challenge as death rocks the small town again when the respected judge Hiram Biddle commits suicide. No one is more distraught than Gideon, whom the old judge had befriended as a mentor and hunting partner. Gideon is regarded with suspicion as an outsider: he's new to town, and Pennsylvania Dutch in the back-country Scotch-Irish settlement. And he found the judge's body.

Making things even tougher is the way the judge's death stirs up vivid memories of Gideon's mother's murder, the trauma that drove him west from his home in the settled Dutch country of eastern Pennsylvania. He had also discovered her body.

At first Gideon simply wants to learn why Judge Biddle killed himself. But as he finds out more about the judge's past, he realizes that his friend's suicide was spurred by much more than the man's despair. Gideon's quest soon becomes more complex as it takes him down a dangerous path into the past.

A Stranger Here Below is so atmospheric, so compelling and convincing, that readers will taste the grit of the dirt roads, cringe at the unsanitary conditions and medical superstitions that inflame a flu epidemic, and marvel at the immensely arduous task of carrying out an investigation using the primitive tools of the early 1800s. Fergus leaves us breathlessly waiting for the next Gideon Stoltz mystery.
About the Author
---
Charles Fergus is the author of seventeen books. The book review editor for Shooting Sportsman magazine, he has written for publications as various as Pennsylvania Game News,Audubon , Country Journal , Gray's Sporting Journal , Yale Review , and the New York Times . A Stranger Here Below, his first mystery, is influenced by the personal tragedy of his own mother's murder. Fergus lives in Vermont's Northeast Kingdom with his wife, the writer Nancy Marie Brown, and four Icelandic horses.
Praise For…
---
In Praise of A Stranger Here Below:
 
"Some writers are natural story tellers and have an instinct for the reader's interest. Others have the ability to invoke mood or a sense of place. Still others are able to handle landscape or have the ability to invoke precise imagery. Every now and then you will find a writer who has all of these qualities, and because of that they invoke the magic of fiction. They make the chair you are sitting on disappear.  Charles Fergus is one of those writers, and A Stranger Here Below is one of those books.  – Craig Nova, author of All the Good Yale Men and The Good Son"The kind of mystery Lee Child would have Jack Reacher tackleif he placed a story in the 1830s." – Michael McMenamin, author of The Liebold Protocol "Deeply imagined and intricately plotted, A Stranger Here Below marries richly textured historical fiction with the urgency of a mystery novel. Fergus knows certain things, deep in the bone: horses, hunting, the folkways of rural places, and he weaves this wisdom into a stirring tale." – Geraldine Brooks, author of March and People of the Book
 
"Imbued with Michael Connelly's gumshoe skills and the vivid historical descriptions of Charles Frazier, A Stranger Here Below is a stark procedural set in the backwoods of Pennsylvania circa 1830. Charles Fergus displays a deft touch in detailing the rough and tumble life of everyday 19th-century America." – Brad Smith, author of The Return of Kid Cooper and the Virgil Cain mysteries
 
"With luminous and deftly sketched prose, Charles Fergus takes us into an American past that is both deeply familiar and utterly strange, through the eyes and thoughts of a young man who is a stranger to his newly chosen community. Sheriff Gideon Stoltz patiently unravels a series of crimes and secrets, while also examining his own life, his past, and the beauties and tragedies of life itself." – Jeffrey Lent, author of Before We Sleep and In the Fall
 
 "A dark, engrossing tale that introduces a decent, sympathetic hero in the young sheriff Gideon Stoltz. The novel's special strength, however, is its imaginative saturation in the community of Adamant, a violent, haunted place of dreams and visions, a place as hard and unforgiving as its name." – Castle Freeman, Jr., author of The Devil in the Valley
 
"In Gideon Stoltz, Charles Fergus has created a unique 19th-century Eastern lawman who struggles not only with wrongdoers but with his own griefs and travails. A Stranger Here Below kept me reading late into the night." – Dan O'Brien, author of The Indian Agent and Stolen Horses
 
"Fergus puts you firmly in Gideon Stoltz's rough-hewn world where a 'foreigner' with the wrong accent has to watch his back even if he wears a sheriff's badge. A cracking good mystery, and a window to the time when our young country was still a dark and treacherous place." – Scott Weidensaul, author of The First Frontier
 
 "Charles Fergus's gifts for invoking time and place empower him to tell an irresistible tale of extraordinary people and the past that haunts them." – Paul Schullery, author of The Time Traveler's Tale and Diamond Jubilee
"[A] rich novel of a distant time and a man who is "Othered" in most aspects of his life . . . Although the book is clearly crime fiction, it is equally an exploration of the soul in the presence of death and wrongdoing. Which is, after all, what a "stranger here below" can expect." -- The New York Journal of Books

"A writer of nonfiction about the natural world, Fergus brings his appreciation for nature to this well-paced blend of mystery and western. Gideon is a classic lawman, tough when he has to be but able to weep when an influenza epidemic rips through town, leaving empty cradles in its wake. An appealing debut that deserves a boost from enthusiastic hand-sellers."--Booklist 

"Simply put, I loved this novel. It works as a compelling and complex historical mystery, but it's more. The characters struggle mightily with the evil around them, trying to find purpose in a world that is frequently brutal and unforgiving. But they carry on. They find meaning in their connections to others, in song, in following dogs into thickets. Their lives are perpetually caught between beauty and violence, compassion and cruelty, love and hate. . . . The details, whether of a grouse's feathers or a horse's gait or burning charcoal for an iron mill, are flawless. Fergus has a curious naturalist's attention to detail. This is a gem. I hope we see more of Gideon Stoltz in the future." —Matthew Miller, Nature.com, The Nature Conservancy blog

"If you've grown tired of formulaic mysteries and thrillers, then you're in for a treat with A Stranger Here Below . . . The characters are built not from cliches, but through Fergus's deft descriptions of their thoughts, desires, and secrets, all while creating a tone that keeps the reader entranced . . . A pleasure to read. -- Elaine Meder-Wilgus, WPSU's BookMark